Formed in 1985, the band that has brought you 37 years of kick ass rock-n-roll. NOVA REX has been featured in the hilarious hair metal documentary, "Nova Rex: Ain't Easy Being Cheesy", which has been seen by millions on Documentary Channel and Netflix. They have also been featured in a new film, "Hair I Go Again" with members of Warrant, Tesla, Quiet Riot, etc. Being ranked in the Top 50 of the Greatest Hair Bands of the 80's by VH-1, you don't want to miss this! NOVA REX brings the ultimate rock show to you! The band has released 7 albums and has been featured in many compilations over the years. Nova Rex also has been immortalized in the Smithsonian, representing 80s metal fashion and has a permanent display at the Daytona Hard Rock.
**FEATURES**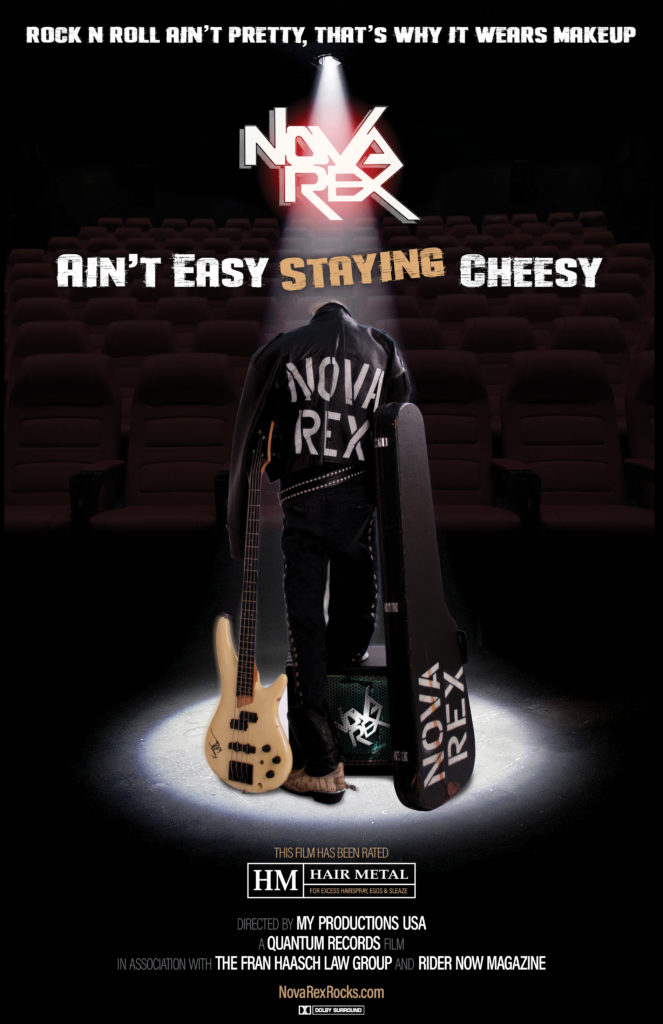 AIN'T EASY STAYING CHEESY
COMIN SOON! Over a decade later, the follow up to the highly praised and underrated "Ain't Easy Being Cheesy" debuts with new real-life exploits of glam band NOVA REX as they continue rock-n-roll life in this hilarious 2022 documentary that recalls the hair-metal group riffing through the late 1980s hair-band era before crashing into a wall of early '90s grunge along with the ups and down and constant mayhem of being in an 80s hair band in the 21st century. Turn it up loud!
Have you ever wanted to have dinner with a rock star? We all have and now you can while benefiting a great cause.
Nova Rex Bass player and author, Kenny Wilkerson, has released the Rockin' Recipes for Autism cookbook featuring numerous rock stars personal recipes. The book will benefit non-profits that support children and young adults on the spectrum. Wilkerson's experience is personal. His son Gunnar is on the autism spectrum.
The book has over 50 recipes from musicians including members of Ozzy Osbourne's band, Whitesnake, Quiet Riot, Warrant, Poison, Great White, Queensryche, Skid Row, Toto, Dokken, Twisted Sister and more.
For more information and to order a copy, please visit www.RockinRecipesforAutism.com
---
---
At The Fran Haasch Law Group, we provide legal representation for victims of negligence. Our legal team handles a broad range of personal injury and wrongful death matters, including car and truck accidents, motorcycle collisions, slip and fall injuries, and more. Led by our founding attorney, Fran Haasch, we strive to help injured individuals and the loved ones of those wrongfully killed secure the full, fair recovery they are owed. Our professional team can handle every aspect of your case so that you can focus on healing and moving forward from the accident.
Nova Rex Turn It Up Loud! Hot Sauce
We want to satisfy your taste buds with our new Nova Rex Turn It Up Loud hot sauce featuring the sweet heat and a tropical tingle combination to the exotic flavors of fresh mango and habanero peppers that produces a zesty sauce, bringing some fiery excitement to your table so crank your taste buds to 11! FREE SHIPPING while supplies last! TO ORDER CLICK HERE